Artifical Insemination Guns
A.I Gun

capacity

Type

Code

pack
Mini

for 0.25ml straws

with ring

C1A

Single

Medium

for 0.5ml straws

with ring

C2A

Single

Mini

for 0.25ml straws

with self locking & ejecting device

C3A

Single

Universal

for 0.5 & 0.25ml straws

with self locking & ejecting device

C3B

Single

Universal

for 0.5 & 0.25ml straws

Spiral

C4A

Single

Universal

for 0.5 & 0.25ml straws

Double locking

C4B

Single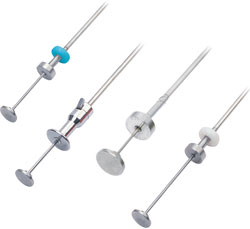 Universal Insemination Guns
Universal Insemination GUN for Cattle With self locking & ejecting device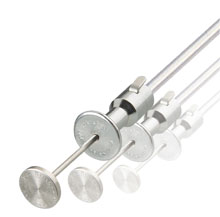 A.I. Guns an important equipment used for Artificial Insemination in cattle are available in varieties & various quality. It is long time now that Animal husbandry Department all over in India, accepted the national policy of a uniform system of A.I. with 0.25 ml Mini method of equipment. However still there are Organizations /A.I. Centers who are working on medium 0.5 ml straws, though they are slowly changing to Mini 0.25 ml system.

We, Bal Krishan Plasikrafts, after lot of Research & Development, developed a unique type of A.I. Gun, which can be used for Medium & Mini Straws. This A.I. Gun have numerous advantages compared to any other type & make of A.I. Guns available in the market/in use. Given below some of the special features of BKP Universal self locking A.I. Gun with ejecting device.
Any type of A.I. Sheaths (Medium, Mini & Universal), split or unsplit can be used.
Self-locking of sheath by merely pushing it into the Gun.
Sheath can easily be released by pressing release lever.
Plunger locking device avoid falling of plunger during handling.
Three stainless steel tubes reinforced body give more strength to A.I. Gun.
Sealing ring is not used, therefore no worry of misplacing it.
We have, since the introduction of these A.I. Guns in India sold large quantity to our esteemed clients..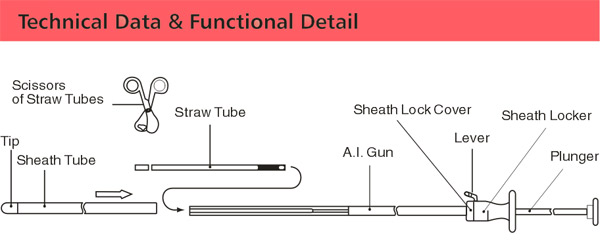 These Guns are also available for Mini 0.25 ml straws & also for Embroyo Transfer use.